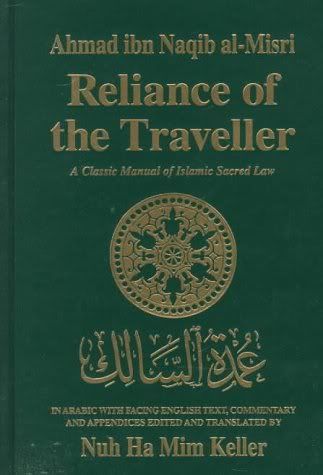 Kalau ditanya, buku fiqh manakah yang terbaik,mungkin saya akan menjawab, buku terjemahan
Sheikh Nuh Ha Mim Keller
ini yang terhebat(setakat ini).Pertama kali diberitahu tentang buku ini oleh Abang Amin tahun lepas.Semasa di Timur Tengah,saya meminta adik saya mencari buku ini di Malaysia dan dikirimkan kepada kawan baik saya,Azlan yg pulang bercuti.Sebelum ini saya hanya membaca beberapa buku fiqh Syafi'i dalam bahasa Melayu yang diterbitkan oleh Pustaka Nasional(tak ingat nama buku tu).
'Umdat al-Salik wa 'Uddat al-Nasik
(Reliance of the Traveller and Tools of the Worshipper) adalah salah satu kitab fiqh utama mazhab Syafi'i.Namun, terjemahan kitab
Ibnu Naqib al-Misri
ini adalah satu-satunya kitab fiqh dalam bahasa Inggeris yang diiktiraf oleh Al-Azhar sebagai kitab muktabar dan boleh dijadikan rujukan.
'Umdat al-Salik
memaparkan kesimpulan daripada perbahasan-perbahsan fiqh mazhab Syafi'i dalam kitab
Majmu' syarah Muhazzab
oleh
Imam Nawawi
dan
Takmila
oleh
Taqi al-Din Subki
.Sheikh Nuh Ha Mim Keller menyusun terjemahannya dengan kemas dan menambah beberapa bab berkaitan 'aqidah,tasawwuf dan pengenalan tentang ilmu fiqh di samping bibliografi dan biografi ringkas tokoh-tokoh yang disebut dalam karya ini(Namun,saya kurang selesa dengan komen beliau tentang Ibn Taimiyyah dan anak muridnya Ibn Qayyim al-Jawziyya.Bagaimanapun, ini tidak mempengaruhi persepsi saya tentang kualiti terjemahan dan susunannya).Perbandingan pendapat antara 4 mazhab kadangkala diselitkan oleh Sheikh Nuh bagi menjelaskan isu-isu yang selalu menjadi khilaf di antara mazhab2 yang empat.Buku ini sesuai dijadikan rujukan dan pengajian.Insya Allah,kalau ke UK terutama ke Manchester,saya akan cuba mencari buku-buku tulisannya.Harap-harap boleh dihabiskan kitab ini pada waktu cuti musim sejuk ni..........
Plan cuti musim dingin
1) Habiskan kitab 'Umdat Salik
2) Cuba selesaikan bacaan kitab al-Waafi, Usul Da'wah(Dr Abdul Karim Zaidan)
3) Kemas bilik
3) Baca cerpen2 Ghafirah Idris, Fahd Razy dan Huda Soid(heheh)
4) Kemas bilik!!!
5) Balas kad raya keluarga di Msia dan sahabat2 di Mesir dan Jordan (hari tu tak sempat nak beli kad raya, dah habis)
Baca!baca!baca!